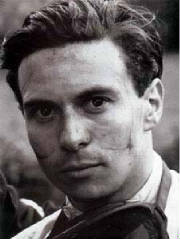 Jim Clark

Jim Clark born March 4th 1936 was a Scottish Formula One racing driver considered one of the best drivers in motor sport history. He was born into a farming family in Chirnside, Berwickshire, Scotland, a small village outside of Duns. The youngest child and only boy. He was educated at Loretto School in Edinburgh.

Although his parents were opposed to the idea, Clark started his racing career driving in local road rallies and hill climb events driving his own Sunbeam Talbot, and proved to be a fearsome competitor right from the off. By 1958 Clark was racing for the local Border Reivers team, racing Jaguar D-Types and Porsches in national events, and winning 18 races.

Then on Boxing Day 1958, Clark met the man who would launch him to superstardom. Driving a Lotus Elite, he finished second to Colin Chapman. Chapman was sufficiently impressed to give Clark a run in one of his Formula Junior cars, and the rest, as they say is history.

After Aston Martin's F1 programme fell through, Clark was a free agent. Colin Chapman snapped him up for his F1 squad, and Clark made his debut in the 1960 Dutch Grand Prix. Throughout his F1 career from 1960 to 1968 Clark drove only for the Lotus team. He developed a near telepathic relationship with Chapman, which contributed to their outstanding success together. Chapman's innovative and nimble designs combined with Clark's skills at the wheel made for a nearly unbeatable force. 1962 saw Clark battling Graham Hill who drove for BRM for the World Championship in Chapman's brilliant Lotus 25, but in the final race an oil leak caused him to drop out just as victory seemed a formality.

His first Drivers' World Championship came driving the Lotus 25 in 1963, winning seven out of the ten races and Lotus its first Constructors' World Championship. In 1964 Clark came within just a few laps of retaining his crown, but just as in 1962, an oil leak from the engine robbed him of the title, this time conceding to John Surtees. He made amends and won the Championship again in 1965 and also the Indianapolis 500 in the Lotus 38. He had to miss the prestigious Monaco Grand Prix in order to compete at Indianapolis, but made history by driving the first mid-engined car to win at the fabled "Brickyard," as well as becoming the only driver to date to win both that race and the F1 title in the same year.

At the same time, Clark was competing in the Australasia based Tasman series, run for older F1 cars, and was series champion in 1965, 1967 and 1968 driving for Lotus. He won 14 races in all, a record for the series.

The FIA decreed from 1966, new 3-litre engine regulations would come into force. Lotus were less competitive. Starting with a 2-litre Coventry-Climax engine in the Lotus 33, Clark did not score points until the British Grand Prix and a third-place at the following Dutch Grand Prix. From the Italian Grand Prix onward Lotus used the more complex BRM H16 engine in the Lotus-BRM 43 car, with which Clark won the United States Grand Prix.

During 1967 Lotus and Clark began their fruitful association with Ford-Cosworth. Their first car, the Lotus 49 featuring the most successful F1 engine in history, the Ford-Cosworth DFV, which won its first race at the Dutch Grand Prix, driven by Clark. He won with it again at the British, United States and Mexican Grands Prix and, in 1968, at the South African Grand Prix. He had established himself as the dominant driver in the dominant car.

On April 7 1968, however, Jim Clark's life and driving career was brought to a premature and tragic end when, during a Formula 2 race, his Lotus 48 veered off the Hockenheimring, Germany and crashed into trees. The cause of the crash was never definitively identified, but investigators concluded it was most likely due to a deflating rear tyre. The 1968 F1 Drivers' Championship was subsequently won by his Lotus team-mate Graham Hill.

Clark achieved 33 pole positions and won 25 races from his 72 Grands Prix starts. He is remembered for his ability to drive and win in all types of cars and series, including a Lotus-Cortina, with which he won the 1964 British Touring Car Championship, IndyCar, NASCAR, driving a Ford Galaxie for the Holman Moody team, Rallying, where he took part in the 1966 RAC Rally of Great Britain in a Lotus Cortina, and nearly won the event before crashing, and sports cars. He competed in the Le Mans 24 Hour race in 1959, 1960 and 1961, finishing 2nd in class in 1959 driving a Lotus Elite, and finishing 3rd overall in 1960, driving an Aston Martin DBR1. He was also able to master difficult Lotus sportscar prototypes such as the Lotus 30 and 40.

Clark had an uncanny ability to adapt to whichever car he was driving. Whilst other drivers would struggle to find a good car setup, Clark would usually set competitive lap times with whatever setup was provided and ask for the car to be left as it was. A shy and undemonstrative man, he apparently had difficulty understanding why other drivers were not as quick as himself.

Jim Clark is buried in the village of Chirnside in Berwickshire.
Graham Hill

Norman Graham Hill was born February 15th 1929 in London. An extremely determined and intelligent man, Hill was nonetheless one of the most larger than life characters F1 has ever seen, with a quick sense of humour. He didn't even pass his driving test until he was 24, and his first car was a wreck. He later said 'A budding racing driver should own such a car, as it teaches delicacy, poise and anticipation, mostly the latter I think!'

He met Colin Chapman after driving a few laps of the Brands Hatch circuit, and hitched a ride back to London with the Lotus boss. After Colin agreed to pay him as a mechanic, to the tune of £1 a day, Graham talked his way into a works Lotus drive.

He later left to join BRM, much to Chapman's annoyance. After winning the 1962 world championship for BRM, Hill was always in the hunt for the title. He was famously launched out of the race at the final race of the 1964 season by John Surtees' team mate, Lorenzo Bandini, costing him the world championship to Surtess. In response to this, Hill sent Bandini a 'Learn To Drive' manual for Christmas that year.

Hill won the Indianapolis 500 in 1966, the second Briton to do so in two years before he returned to Lotus for 1967 season after BRM became uncompetitive. After Jim Clark's tragic death, Graham took over as team leader, pulled the heartbroken team together and won the world championship again at the end of the year. After being paired with Rindt for 1969, Hill started the year well and won his fifth Monaco Grand Prix victory, a record that stood for 24 years until Ayrton Senna won the race 6 times. Graham then lost pace towards the end of the year. The situation wasn't helped by a massive leg breaking accident at the end of the season in the USA Grand Prix.

After his recovery, he concentrated mostly on sports cars, and won the Le Mans 24 Hour race in 1972, becoming the only driver to win the 'Triple Crown of Motorsports.'

Hill set up his own racing team, Embassy Hill Racing but this ended in tragedy as Hill, his driver Tony Brise and three members of the team were killed on 29th November 1975 while flying back froma test session at Paul Ricard. It was the end of an era.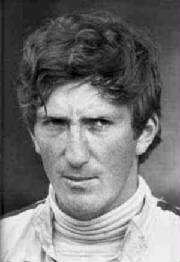 Jochen Rindt

Karl Jochen Rindt was born 18 April 1942 to Austrian and German parents. His parents were killed in an allied bombing raid, and he was brought up by his grandparents in Graz, Austria.

A spectacularly fast driver, Rindt seemed in his early F1 career, to be in the wrong car at the wrong time. From 1964 to 1968, Jochen was a regular points scorer-when his car held together. It was only a move to Lotus in 1968 replacing Jim Clark that he became a consistent competitor.

Rindt preferred a stable mechanical environment, so wasn't very comfortable in one of Colin Chapman's cars. This lead to a rather fractious relationship between the two men, but when the car was working, Rindt proved to be more than a match for anyone else. He took his first win at the US Grand Prix in 1969, before starting 1970 as the title favourite. He used the Lotus 49 to score a memorable win in Monaco, before Chapman gave him the excellent Lotus 72.

After winning 4 races on the trot, Jochen seemed assured of the championship, until practice for the Italian Grand Prix. Rindt wanted to use the Lotus 49, as he felt the Lotus 72 with it's integral wings removed was far too dangerous. Chapman told him the 49 wasn't available and the 72 would have to do. Reluctantly, Jochen took to the track.

On the fastest part of the track, the 72's brakes failed. Jochen didn't stand a chance and was slammed into the guard rails at almost full speed. He was killed instantly. Some irony came from the fact that the Lotus 72 won the Italian Grand Prix at the same circuit two years later with it's wings in place.

Chapman was devastated and he withdrew the team from the race, but Jochen's points total so far proved insurmountable for Jacky Ickx in the Ferrari and Rindt was the sport's only posthumous world champion. It was especially sad, as Jochen had promised his wife Nina that he'd retire from the sport at the end of the year if he won the title.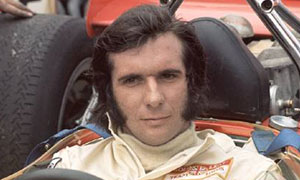 Emerson Fittipaldi

Emerson Fittipaldi was born 12th December 1946 in Sao Paulo, Brazil, the son of a motor racing journalist. He and his older brother Wilson started off racing motorbikes before a switch to cars in the late 1960's. After winning the British Formula Three championship for Lotus, Colin Chapman snapped up Fittipaldi for his F1 team for 1970. He made his debut at the German Grand Prix and took over as team leader when Jochen Rindt was killed in Italy.

Emmo's first win came at the US Grand Prix, which helped Rindt become F1's only posthumous world champion. The Lotus 72 was updated during 1971, and Emerson used the car in 1972 to become the youngest F1 world champion with five wins. He was joined by Ronnie Peterson for 1973. The two drivers fought a good natured internal battle during the season but their in-fighting helped Jackie Stewart retake the title that season. Fittipaldi and Peterson's combined points were more than enough for Lotus to retain the constructors' title.

Emerson then moved on to McLaren for 1974 and won the championship back, before giving best to Niki Lauda in 1975. Then he made a daring and ultimately wrong move to join his brother's Copersucar racing team for 1976. Emerson struggled on for four years before announcing his retirement from F1 at the end of 1980.

He took up competition in America and won the 1989 Indycar championship and the 1993 Indy 500. However a back injury during 1996 ended his racing career, and he is now a commentator in his native Brazil.
Ronnie Peterson

Bengt Ronnie Peterson was born in Orebro, Sweden on 14th February 1944. Froma young age he was totally obsessed with cars and speed. After a successful karting career, Ronnie enterd his first F1 race at Monaco in 1970, whilst simultaneously competing in F2. He won the F2 title in 1971, and finished second to Jackie Stewart in the F1 driver standings driving the odd tea tray nosed March.

It was his move to Lotus in 1973 when Peterson really came of age. He and the Lotus 72 were a perfect match, and he took four wins that season. His amazing car control and blinding speed were a perfect match for the 72's strongest points. The sight of the 72 sidways coming out of corners became Ronnie's most enduring image in most people's minds.

Two more years at Lotus gave him another 3 wins, before he moved back to March for 1976, an then to Tyrrell to drive the six wheeled P34. Neither car or team really suited Peterson and a single win and a handful of podium places were his reward, before he moved back to Lotus for 1978 with Mario Andretti.

Mario and Ronnie hit it off immediately and became very close friends. The two dominated 1978 in the Lotus 79, with Ronnie picking up two more excellent wins. It was clear one or the other Lotus driver would take the title, and at Monza it was between the two.

In practice, Ronnie had damaged his Lotus 79, so had to start in the old 78. The start was bodged and Peterson was caught up in a huge accident at the first corner. His car was pushed nose first into the barriers, breaking his legs before the Lotus burst into flames. James Hunt pulled him from his car, and at first Ronnie seemed to have escaped injury. Sadly he was to die that night from blood clots. He was the fastest man in F1 throughout the mid 70's and well liked and respected by the other drivers.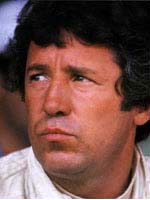 Mario Andretti

Mario Gabriele Andretti was born on 28th February in Montona in Italy. When he was young, his family was moved into a displaced persons camp in Trieste. They eventually left at the end of hostilities in 1945. Mario grew up surrounded by cars, and he and his brother, Aldo enjoyed attending motor races. Mario's heroes were Fangio, Moss and Alberto Ascari. Mario decided he wanted to be a racing driver then and there.

His family emigrated to America, and settled in Nazareth, Pennsylvania, where they live today. Mario first tried his hand at midget racing, dirt track and dragsters and proved to be a very promising driver.

So promising in fact that an Indycar talent scout noticed him and offered him an Indycar drive. He accepted, and became the first rookie ever to win the Indycar title in 1965. He entered the Indianapolis 500, and won in 1969. He also won the Daytona 500, and a NASCAR title. Andretti became interested in Sports Car racing, and from there, F1, where he debuted for Lotus in 1968. In 1971, he won his first GP for Ferrari.

In 1976, he accepted a full time drive with Lotus, and declared that years' car to be a dog. But Lotus boss, the brilliant Colin Chapman, had a special car in the pipeline. The 1977 Lotus was a 'wing car', the idea being to reduce the air pressure under the car, sucking the car onto the road with more force than conventional wings. Andretti won several times, but unreliability kept him from the title, but in 1978, he had no such bad luck.

The Lotus 79 was the most beautiful F1 car ever. It was also the fastest car on the track that year, and nothing could be done to beat it, unless you had the Brabham 'fan car', which was banned after just one race anyway..... Andretti won seven times, and his team mate Ronnie Peterson won twice.

Mario clinched the championship at Monza, in Italy, but in tragic circumstances. Peterson had crashed his car in practice, so had to start in the 1977 car. There was a huge accident at the beginning of the race, which Peterson was involved in. Ronnie was taken to hospital, and died the following morning, from the effects of injuries to his legs that he suffered in the crash. Mario was devestated, and was never the same driver again.

He returned to the USA in the early 80's, to continue his US career. He was successful, but concentrated on trying to win the Le Mans 24 Hour race, something which he has yet to achieve, but knowing Mario Andretti, he won't give up until he has won it!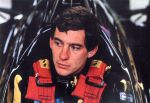 Ayrton Senna

Ayrton Senna Da Silva was born on 21st March 1960, in Sau Paulo, Brazil. His father was a wealthy industrialist, and gave Ayrton a kart when he was 4. Ayrton took racing very seriously, always practising, and training in any weather. In 1980, Senna moved to Britain, to further his career, but despite great success in FF1600, he didn't get the backing or support he needed and went home, down hearted. But he came back at his father's urging, even more determined to succeed.

He won the 1983 Formula 3 championship by a long way, and the following year, moved into F1, with Toleman, for whom some great performances-particularly at a wet Monaco-got him noticed by the bigger teams. For 1985 he joined Lotus. The team hadn;t won a race for 3 years, but Ayrton took a dominant victory at a soaking wet Portugal. The Lotus cars were fast but unreliable and a further 5 wins in 3 seasons weren't enough for Senna. He wanted a team that could win him the world championship and in 1988 he left and joined McLaren. In 1988, the McLaren team were virtually unbeatable, and won 15 out of 16 races, with Senna the champion, and his team mate, Alain Prost, second.

But the storm clouds were brewing between the two drivers. In 1989, Senna won six times, but Prost cleverly racked up the points, and was ahead at the Japanese GP. Senna wanted to win even more than Prost, and tried to overtake him at the final corner, but Prost saw him coming, and turned in on Senna, taking Senna out of the race, and making Prost the champion. Senna was NOT amused.....

The following year, Prost was at Ferrari, and this time Senna had the advantage over Prost. Again at Japan, for the second year running, the sparks really flew.

Senna had claimed pole position, but Prost had been given the cleaner side of the track, with better getaway chances. This fired Senna up even more..... At the green light, Prost led away, but Senna took no chances and at the first corner of the first lap, aimed the nose of the McLaren at the rear of the Ferrari. The two cars smashed into each other, taking Prost out, and making Senna the champion.

The following year, Senna won his final championship, beating Nigel Mansell, but after that the McLaren was off the pace. In 1992, the Williams of Nigel Mansell stomped all over the opposition, making Nigel the champion by over 50 points. This didn't stop Senna holding off Mnsell to win a brilliant Monaco GP, but in 1993, the McLaren had an underpowered engine, and Prost was back-in Mansell's place at Williams.

At the European GP at Donington Park, the weather was awful on race day. Senna was in fourth place on the grid, but his skill in the wet, and his refusal to give up meant he passed three cars in one lap, and started lap 2 in the lead of the race! It was his greatest drive, and surely one of the most remarkable races in GP history.

In 1994, Senna at last joined Williams, but was off the pace in the first two races. At San Marino, he was leading, when a technical faliure caused his car to go straight on at a fast corner. He hit the wall, and was killed instantly. Possibly the greatest driver of all time was dead, and F1 has never been the same without him.