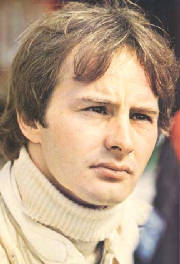 1978 Canadian Grand Prix
It was a cold blustery day at the new Il de Notre Dame circuit in Montreal. The Canadian Grand Prix was about to start, with Jean Pierre Jarier, Ronnie Petersen's replacement at Lotus on pole, with Carlos Reutermann in second place. Gilles was third on the grid, and the crowd were hoping their hero would have a good race, having impressed for most of the season.
Jarier jumped into the lead at the start with Jones in the Williams moving into second. Jarier quickly built up a big lead, while Scheckter, Hunt and Villeneuve managed to pass the Williams on consecutive laps. Giles then outbraked Scheckter and took second, but victory seemed a long shot as Jarier was half a minute up the road. Gilles pressed on trying to catch the flying Lotus.
Jarier then started to have problems with his brakes and he dropped out, leaving Villeneuve in the lead, but Gilles ran into car problems with about 6 laps left. He just managed to hold off Scheckter to win his first grand prix, and the crowd went into mass hysteria as Gilles took the winner's trophy.
1st Gilles Villeneuve CDN Ferrari
2nd Jody Scheckter ZA Wolf Ford 4 seconds behind
3rd Carlos Reutermann ARG Ferrari 14 seconds behind
4th Riccardo Patrese ITA Arrows Ford 23 seconds behind
5th Patrick Depailler FRA Tyrrell Ford 27 seconds behind
6th James Hunt GBR Mclaren Ford 37 seconds behind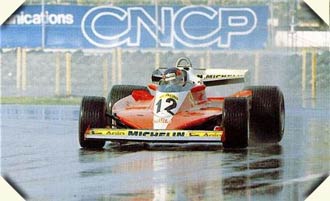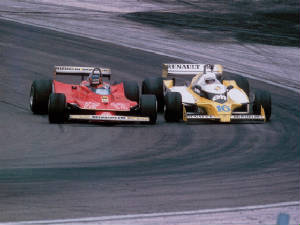 1979 French Grand Prix
The two turbo Renaults of Jabouille and Arnoux lined up on the front row, but at the starts, Villeneuve, Jones and Scheckter blasted past. Gilles built up a lead as Scheckter and Jones were passed by the more powerful French cars in the early laps.
By half distance, Jabouille was ins triking distance of the leading Ferrari, and Gilles had worn his tyres badly. Jabouille passed Gilles on the start/finish straight and pulled away into the distance, while Arnoux came up behind Gilles hoping to make it a French 1-2 in their home race.
Arnoux passed Villeneuve on lap 76 of 80, but hadn't bargained on Gilles fighting back as hard as he did. The Ferrari got ahead of the Renault on the next lap, and held the position until lap 78, when Arnoux again outbraked Gilles. The 2 cars rubbed wheels and Arnoux somehow got ahead. Coming into lap 79, Giles locked his brakes up and slithered past the Renault at the first corner before Arnoux tried again to pass on the last lap. The two cars banged wheels all the way around the first and second corners, the Renault slightly ahead before Arnoux went wide and Gilles leapt in front to stay in second place and finish there.
It was one of the few races where no-one remembered who won!
1st Jean-Pierre Jabouille FRA Renault
2nd Gilles Villeneuve CDN Ferrari 12 seconds behind
3rd Rene Arnoux FRA Renault 12.105 seconds behind
4th Alan Jones AUS Williams Ford 28 seconds behind
5th Jean-Pierre Jarier FRA Tyrrell Ford 36 seconds behind
6th Clay Regazzoni SWI Williams Ford 65 seconds behind
1979 USA Grand Prix East
Watkins Glen in upstate New York was a fast, flowing track that challenged drivers-all th more when it was wet, and in '79 it was, very. Gilles went out to do some exploratory laps and ended up quickest of all-11 seconds faster than his teammate Scheckter in the same car! Not surprisingly, Gilles got pole position.
On race day, the rain was coming down as hard as ever, and as the field set off, Villeneuve on his Michelin tyres more suited to the wet weather had a big advantage. The circuit then started to dry and Jones in the Williams came through to challenge. Jones passed Gilles, only for the Ferrari man to immediately re-pass. The two fought for every inch in the slipery conditions, then the rain became heavier again, and Jones went in for new tyres. As he came back onto the track, the Williams lost it's right front wheel, leaving Gilles to cruise to the flag a worthy winner.
1st Gilles Villeneuve CDN Ferrari
2nd Rene Arnoux FRA Renault 53 seconds behind
3rd Didier Pironi FRA Tyrrell Ford 1 lap behind
4th Elio de Angelis ITA Shadow Ford 1 lap behind
5th Hans-Joachim Stuck GER ATS 1 lap behind
6th John Watson GBR Mclaren Ford 2 laps behind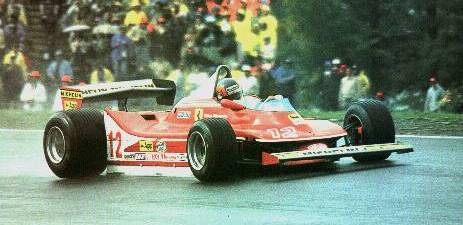 1981 Monaco Grand Prix
For 2 years, highly efficient ground effect cars had ruled the roost and Ferrari hadn't been able to compete. The leaders, Williams, Brabham, Ligier and Renault had a big advantage over the Italian giant, and it wasn't helped by the fact that Ferrari had for 2 years, built cars which weren't especially good. In 1981, Ferrari had built a turbo engine, which was powerful and reliable, but had designed a car which was ugly, had terrible handling, ate it's tyres and wasn't up to fighting with the ground effect car pioneers. Villeneuve muscled the car to second on the grid at Monaco, behind Piquet on pole and Jones just behind. At the start, Jones got the jump on Gilles and hustled Piquet hard for 30 laps until Piquet dumped the Brabham into the wall.
Jones took the lead, surely heading for victory. Gilles had settled for second until with 10 laps to go, Jones pulled into the pits with fuel pressure problems. The team sent him out hoping they'd ficed the problems, but Jones was still struggling, and Villeneuve was gaining fast. With 2 laps left, Gilles nipped inside Alan at Saint de Vote and pulled away as Jones spluttered to the line, well behind the delighted Canadian.
1st Gilles Villeneuve CDN Ferrari
2nd Alan Jones AUS Williams Ford 40 seconds behind
3rd Jacques Laffite FRA Talbot Ligier Matra 46 seconds behind
4th Didier Pironi FRA Ferrari 1 lap behind
5th Eddie Cheever USA Tyrrell Ford 2 laps behind
6th Rene Arnoux FRA Renault 2 laps behind
1981 Spanish Grand Prix
It was one of the hottest races on record, with the mercury reaching 100 degrees farenheit. Jacques Laffite was on pole with Gilles down in 7th place. At the green light, Gilles made a fantastic start and was third going into the first corner. At the end of the first lap, he outbraked Reutermann for second place, but Jones was some way ahead, until Jones made a mistake and went off.
Gilles now lead from Reutermann, Laffite, Watson and De Angelis. Reutermann dropped behind Watson but Laffite was behind for 63 laps and made every attempt to get past. Jarama had so many corners that overtaking was impossible unless you barged your way past, and the turbo engine in the Ferrari made it too fast down the straight to keep up with. Somehow, Gilles dealt with the pressure and the baking sun to win by .200s of a second, and just 1.2 seconds covered the first 4 drivers home!
1st Gilles Villeneuve CDN Ferrari
2nd Jacques Laffite FRA Talbot Ligier Matra 0.218 behind
3rd John Watson GBR Mclaren Ford 0.543 behind
4th Carlos Reutermann ARG Williams Ford 0.836 behind
5th Elio De Angelis ITA Lotus Ford 1 second behind
6th Nigel Mansell GBR Lotus Ford 16 seconds behind