Gilles was born Joseph Gilles Henri Villeneuve on 18th January 1950 in Bertierville, Quebec in Canada. His father was a piano tuner who loved to do hair raising stunts in cars. Gilles built himself a small 'car' from a lawnmower when he was 5 years old, and although he made a mess of the garden, his father encouraged him to keep going in that direction.
His father taught him to drive when he was 9, letting him drive the van on fields and counrty lanes, and at 15 as a birthday present he was given an MG 'A' which he immediately tweaked and entered in races with friends. He had a vast knowledge of mechanics and was always playing with his car trying to get more out of it. He bought a Ford Mustang and put an 8 litre engine in it, and then tried drag racing and some oval racing, but found both pretty boring, and he decided he needed a more challenging type of motorsport.
Gilles first started racing snowmobiles in his early 20s after trying drag racing and dirttrack midgets. He became Canadian snowmobile champion and from there decided to switch back to cars, but this time to Formula Ford, the equivalent of FF2000. He went to a race school and gained his racing licence at the first attempt. To gain money and race in Formula Ford, Gilles continued racing snowmobiles in the winter, and this was successful, he was Canadian snowmobile champion and Formula Ford champion in 1973. In 1974, Gilles switched to Formula Atlantic, and wrecked his team's cars immediately! After the team bought some new cars, Gilles soon became a very competitive driver, and his familiar sideways driving, was soon recognised.
In 1976, Gilles became Formula Atlantic champion and entered the Trois Rivieres street race. At the race were several F1 stars, including James Hunt and Alan Jones. Amazingly, Gilles beat them! This impressed Hunt so much that he arranged an F1 test session with his McLaren team for Gilles. Before the test Gilles tried his hand at the Can-Am sportscar series and finished third in one race.
It was time for Gilles to move up to F1, and he did at the British Grand Prix in 1977.
Gilles in his first race for Mclaren.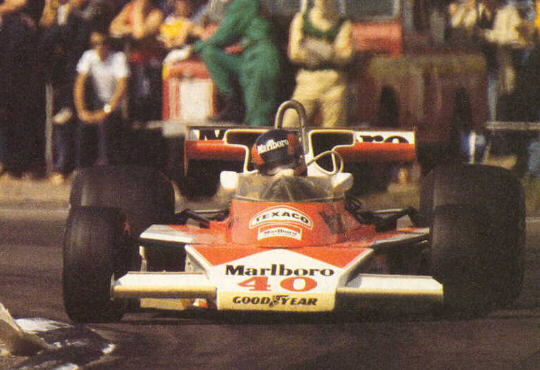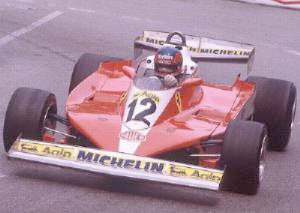 Gilles would have finished fourth in his first ever race, but was stopped by a broken fuel guage. Teddy Mayer, much to Gilles' and Hunt's disappointment did not take advantage of the Canadian's services again, leaving Gilles to go back to Canada upset. But a phone call in the early autumn gave him some hope.
Enzo Ferrari had been very impressed with Gilles' performances in Formula Atlantic and at Silverstone and offered Gilles a full time seat at Ferrari in 1978 as Niki Lauda's replacement. Lauda walked out on Ferrari after wining his second world championship leaving Gilles to drive Lauda's car in the final two races of 1977. His start with Ferrari didn't go as planned. He retired from his first two races, and in 1978 he retired from the first three races of the season. Gilles then led at Long Beach but tried to lap Clay Regazzoni and wrote off both cars! Enzo Ferrari gave him the nickname 'The High Priest of Destruction', while the Ferrari fans took him to their hearts for his daring and bravery, calling him 'La Piccolo Candienese' and 'Villanova.' He drove well all season after that and finished the season with 23 points. This included his first F1 win in Canada on a cold day in Montreal. It was a wonderful win which earned him many new fans.
Ferrari had caught up with the 'ground effect' cars of the era in 1979. Jody Scheckter had joined the team replacing Reutermann and the 312T4 looked ugly but a race winner. Gilles won in Long Beach and South Africa, while Scheckter won In Belgium and Monaco, before the Williams team and Alan Jones won the next few races. In France the turbo Renaults at last started to perform and Gilles finished second, but not until he'd had a breathtaking wheelbanging battle with Rene Arnoux for the last 5 laps, The Ferrari's tyres were finished but Villeneuve fought as hard as ever and the two cars changed places several times before Gilles barged past and took second place.
In Holland, Villeneuve had taken the lead but a deflating tyre was causing him grief. Rather than pitting for new tyres, he stayed out and eventually had a blowout at 170mph. He then drove a whole lap back to the pits on three wheels and waited while his engineers told him he couldn't go on as the car was too badly damaged. Gilles just hated to give up!
Scheckter won the title at Monza, with Villeneuve acting as his rear gunner. Gilles was magnanimous in defeat, but vowed to beat Jody on the track in future. Gilles finished second to Jones in Canada, and then dominated in America where there was torrential rain all weekend. He had got pole position by a staggering 11 seconds from Scheckter!
Away from F1, Gilles was a great follower of downhill skiing and ice skating. His favourite films were Convoy, Bullitt and Smokey and the Bandit. He also enjoyed photography and flying his helicopter. He could play the piano well, and liked The Beatles, The Animals and The Monkees.