Get yer trousers on. You're nicked!
With those words, DI Jack Regan burst onto our screens in mid 1974 in the Sweeney pilot film 'Regan.' The pilot intriduced us to the characters which 30 years later we still talk about and admire, in a type of police drama never seen before.
By the 1970's, police shows such as Z-Cars and Softly Softly were quiet, cosy affairs where the coppers were fair and just people with strong principles. Z-Cars had begun in the early 1960's, and was seen at the time as a cutting edge and gritty drama, but by the 70's the stories has started to become samey and the series had lost it's edge a little. The Sweeney changed all of that, and it's influence is still being felt.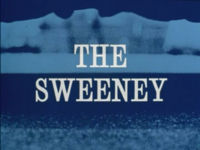 The premise for the pilot film and the series was created by Ian Kennedy Martin, an experienced television writer, whose brother Troy had previously written The Italian Job and Kelley's Heroes.
The series focused on the lives of Jack Regan, George Carter and Frank Haskins, senior members of Scotland Yard's elite Flying Quad - the rhyming slang was 'Sweeney Todd' hence the title of the series. The Sweeney was the follow up to Special Branch, starring George Sewell and Patrick Mower. That series followed a special arm of Scotland Yard who investigated high level crime. It set the standard; it was shot mostly on film, it featured location shooting and dynamic action scenes and was produced by Euston Films. The problem was the series was not very marketable outside the UK, so Thames TV ordered a replacement that was faster, harder and more rounded a presentation. Euston Films turned to Ian Kennedy Martin for help, who came up with Regan, a feature length pilot episode that laid the groundwork for the new series.
The character of Regan was written with John Thaw in mind from the beginning. Kennedy Martin had worked with Thaw on a series called Red Cap in the mid 60's, and felt that Thaw's skills would be ideal to bring the impulsive, rough and ready but intelligent character of Regan to life. Luckily, John was available to take the part.
Carter was written as a foil for Regan. In the writers' guide he was meant to appear in 10 our of every 13 episodes, and act as backup to Regan in charge. Dennis Waterman was cast after appearing in an episode of Special Branch.
In the beginning, Haskins was almost constantly at odds with Regan's old fashioned methods as he sought to bring in a fairer and more humane way of policing, but over time softened and came to accept Regan's ways. Garfield Morgan was an experienced character actor at the time and The Sweeney put him in the spotlight. Although MIA from the two films and parts of the fourth season, Haskins was nearly always a factor in the episodes and his presence elevated the series from the standard 'buddy-buddy cops chasing the bad guys each week.' Although the villains were mostly not out of the ordinary, the scripts were of a very high standard and many different plots were tried. Several episodes had slightly experimental themes, such as Nightmare, In From The Cold and Taste of Fear which had psychological overtones or 'is it real or imaginary' style overtones.
The Sweeney was shot mostly on location in South London. The station scenes were filmed at Colet Court (HQ of Euston Films) in a former school especially converted for the series' use. Locations used were mainly in Fulham, Hammersmith and Battersea. It was one of the first British TV shows to extensively use outdoor locations, and set a trent for many shows that followed. It was also unique in being one of the first TV series shot entirely on film rather than videotape.
The series proper began it's run on 2nd January 1975 on ITV at 9pm. It was shown on Thursday nights, then moved to Monday for two series and then back to Thursday for it's final run in 1978. Two films were also produced, Sweeney! premiered in January 1977 and Sweeney 2 was released in April of 1978, both were reasonable successes at the box office. The series drew in viewing figures of over 18 million people at it's height, an incredible achievement for weeknight TV.
Like it's successor, The Professionals, the series was seen as ahead of it's time but was also criticised by various media interest groups for being overly violent and for it's language. Ironically the police were among the most vocal critics, who claimed the series was far too much like their actual activites! Each episode cost £40,000 to make and took around 10 days to film; the writers were given a month to write each script, which meant script revisions were almost unheard of. The theme tune was written by Harry South, and is one of the most easily recognised ever written.
In all, the pilot, four series (53 episodes) and two films were made, and made household names of John Thaw, Dennis Waterman and Garfield Morgan. It is seen as one of the major influences on detective shows made in Britain since and continues to be imitated but never bettered to this day.
Shut it!