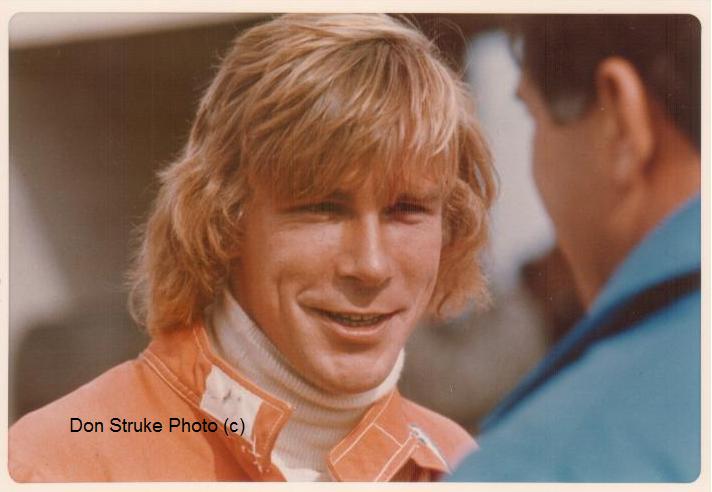 The above picture was sent to me by Don Struke. Thanks for the input, Don!
James was born James Simon Wallis Hunt, on the 29th August 1947, in Belmont, South London. His father was a stockbroker, and his mother was a housewife. James was the second of six children, having three brothers and two sisters. One of his brothers, Pete, became his business manager, and head of the James Hunt Fan Club.

James went to private schools, and then to Wellington College in Berkshire. He originally studied to be a doctor, but in 1965, just before his 18th birthday, he was taken to Silverstone for a race meeting. James was hooked, and decided to be a racing driver there and then. He built a mini racer, which wasn't very good, but it taught him a lot about mechanicals, and then bought a clapped out Formula Ford car in 1968.


James was boisterous and outgoing and his on-track performances were equally as engaging.

In 1970, James started racing in Formula 3, and after having lots of spectacular accidents in the early races, got the well earned nickname 'Hunt The Shunt.'

In 1972, Hunt was a failed F3 driver, having won a few races, and most famously having punched another driver named Dave Morgan, after Morgan crashed into him and cost James a race win.

James had nothing to do, until he went to a Formula 2 race in Belgium, where he met two men who would change the course of his career. One was an eccentric aristocrat named Lord Alexander Hesketh, and the other was Hesketh's friend, Anthony 'Bubbles' Horsley. Hesketh had an F2 team but needed a driver; Hunt needed a car. James was hired, and Hesketh Racing was born. It wasn't great, the Hesketh F2 Surtees car was overweight and slow, and Hunt crashed several times whilst trying too hard. Lord Hesketh worked out that competing in F1 would cost about the same as F2, so why not move up to F1? Hesketh had already entered one F1 race, the 1973 Race of Champions and had finished third. This encouraged him to move his team into F1 in the mid season. He bought a March chassis and hired one of March's engineers, Dr. Harvey Postlethwaite, who would later go on to design the Wolf cars, and the early 1980's Ferrari turbo cars, and the team made it's debut at Monaco.

By the end of 1973, Hunt and Hesketh's first season in F1 had got them noticed, and they'd impressed a lot of people. Hunt got into the points 6 times, and ended the season with 15 points, and 2 podium finishes, including a stirring second place just behind Ronnie Petersen in the American Grand Prix. In 1974, there were 3 podiums and 16 points. Hunt very nearly won in Argentina too, until he spun off near the end of the race, but the team did manage to win it's first race, the 1974 International Trophy at Silverstone, just a few miles from Hesketh's base at Easton Neston estate.

Hesketh designed it's own car for 1975, the 308. Hunt finished second in Brazil, and came third in Argentina, but didn't score any more points until halfway through the season after that.

In Holland, the race began with rain, but the track started to dry out. Hunt went into the pits as he felt the track giving more grip, and came out in the lead with Niki Lauda's Ferrari just behind. Hunt managed to hold off Lauda for 62 laps, and won the race, his first and Hesketh's only win. He finished fourth in the championship that year with 36 points, but Lord Hesketh, who ran his team without sponsorship ran out of money, and couldn't find a sponsor so the maverick team folded.

Hunt was facing an uncertain future until Emerson Fittipaldi left McLaren for Copersucar, and the only driver around to replace him was James. McLaren boss Teddy Mayer wasted no time, and signed the unruly but hard charging James as Fittipaldi's replacement.

In 1976, Ferrari and Lauda dominated the first half of the saeson with 5 wins, but then Lauda's terrible crash at the Nurburgring, where he nearly died, was just what James needed. Hunt won 6 races, and snatched the championship from Lauda at the last race of the season in Japan.



The next year, the new McLaren car was not so good and Hunt refused to test the car. James eventually won three races, including the British Grand Prix, in the Queen's Jubilee Year, in front of 80,000 enthusiastic Hunt fans. He had three breakdowns near the end of races when he was leading, which if he'd finished them would have won him his second world championship. Instead, James finished third in the championship with 47 points, behind Lauda and Scheckter, but equal with Andretti.

The 1978 season was a disaster for James. The Lotus team had designed the first proper 'ground effect' car, and left all the other teams standing. The McLaren was particularly uncompetitive and James struggled to do well. He didn't win a race but managed to get on the podium when luck was with him, and finished 8th equal in the final table.

James tried a switch to the Wolf team in 1979, but found the car even worse, so he decided to quit while he was ahead, and retired in mid season. He had seen to many of his friends die or be seriously injured. Most recently it had been Ronnie Petersen, the briliant Swedish driver who died in the Italian GP. Hunt had rescued him from his burning Lotus, but Ronnie died of his injuries.

James loved the better things in life, and live life to the full, whenever he could. He was never a conformist. He refused to follow the pack in anything and always did his own thing. He was criticised for it, but the more stick he got the more he would stick to his own thing. He had it written into his contract with McLaren that he didn't have to wear a suit or go to sponsor days. He was once spied buying cigarettes from the John Player Special stand while wearing a Marlboro jacket!

He was good friends with several drivers, including Jody Scheckter, Ronnie Petersen, Niki Lauda, Alan Jones, and Gilles Villeneuve, who James discovered after Villeneuve beat him in a Formula Atlantic race.

James loved animals and was a prize wining budgerigar breeder. He could also play the trumpet and was an accomplished tennis and squash player. He also had a beloved alsation named Oscar, who he used to take to dinner with him!

After retiring, he became a controversial and very entertaining commentator for BBC with Murray Walker, of the pants-on-fire shouting broadcast fame. The two were perfect for the sport, and many more viewers tuned in to watch the races, and hear Murray defend a driver, whilst James laid into a driver with all kinds of insults and put-downs.

James also owned a disco named Oscar's in Spain, where he lived as a tax exile in the 70's.


On 15th June 1993, James died from a massive heart attack at his Wimbledon home. He was just 45 years old.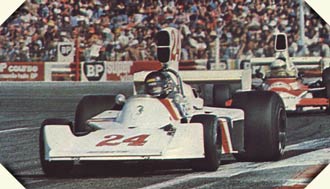 At a Glance
Date of Birth: 29/8/47
Education: Wellington College, Berkshire
Height: 6'1'' Weight 79kgs
First Professional Role: Can stacker in Sainsbury's to get money to build his racing Mini.
Astrological Sign: Virgo